When you open your WS-FTP application, you will see a window like the one shown below.
Refer to the confirmation letter for details of IP address/Domain Name, login name and password.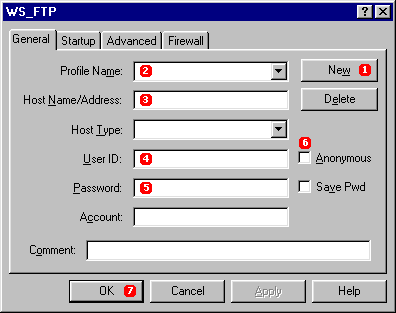 Create a new profile. To do this, Press the <NEW> button.
Under "Profile Name", enter your company name or simply your domain name.
Enter your Domain Name Address (e.g. yourname.com or yourname.com.my) in the field named "Host Name/Address:"
Enter your login on your account in the box corresponding with "User ID".
Enter your account password in the field named "Password".
Finally, make sure that the "Anonymous" box is not checked. You may choose to select the box entitled "Save Pwd". This will store your password for future use.
Now press the "OK" button near the bottom left of the window and you will automatically be logged into your account via FTP.